Getty Images
April 12, 2022
By R. Michael Brown, Go Home TV Producer
Residential real estate inventory is at an all-time low; but, there is an alternative way to buy homes. When you can't find a property going the traditional route, start thinking outside the box and consider making a purchase via an auction. Turns out there is a lot of inventory there.
In Florida for example, currently there are 30,895 properties as foreclosures, bank owned, and auctions [RealtyTrac data]. In Palm Beach County, home to Go Home TV, there are 4,086 total homes for sale plus 2,602 homes in foreclosure with 5 bank-owned, and 228 up for auction at the time of this writing.
That adds a considerable number of homes to the for-sale inventory. In this series on Buying Real Estate at Auction, Dawn Pfaff, president of My State MLS, broker, and real estate investor with over 20 years of experience, and her co-host Nicole Wilbur, will show you the auction process as Dawn bids on property that she intends to invest in.*
She'll talk to you about the different types of auctions, tips to make a profitable purchase, and the pitfalls to avoid.
"Foreclosures are not always because the borrower couldn't pay their mortgage," said Pfaff. "Sometimes people pass away, and they don't have anyone to inherit that home. Plus, there are always divorces and life events that cause foreclosures to happen in any market."
Risky Process?
Buying a home at auction is riskier than buying through the usual process. It is vital to be well educated about how real estate auctions work and the estimated costs involved can add up. This series will help you understand the process; but, we are not lawyers, and this is a legal process, so when in doubt check with your local attorney.
Auction rules are different for each county and state so learn the specifics for the county where you want to buy.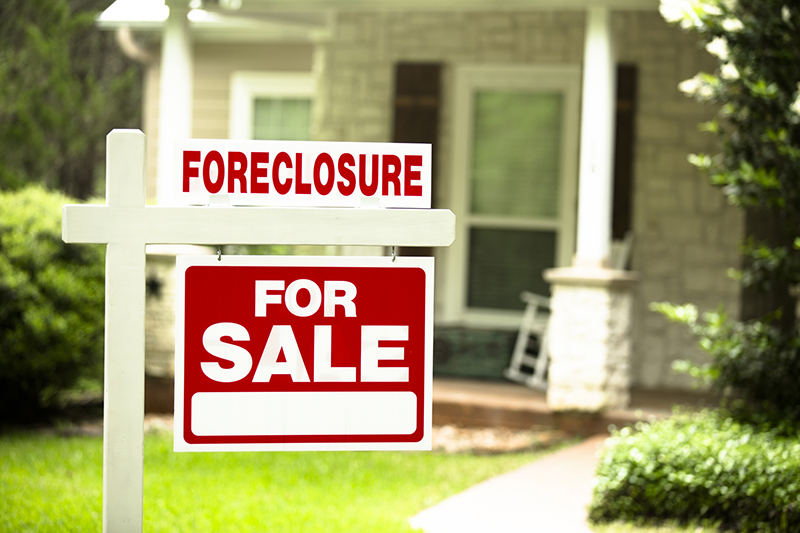 Getty Images
You can find home auctions through local governments, real estate agents, and online auction sites such as RealtyTrac.com, Auction.com and on MyStateMLS.com. Local governments and auction websites are public sites. Real estate agents depend on multiple listing services (which are not public sites).
Auction properties often do not allow a home inspection or any legal way to view the interior in person. If you cannot afford the risk of buying a property in poor condition, stick with auctions that allow you to inspect the property before bidding. Review and understand all auction rules and do your due diligence on any property you are interested in - for instance, check for claims, liens, and occupants before you bid.
"Many mistakenly believe that auction homes are a great deal," said Pfaff. "Some auction homes are a good deal, and others can be a big blunder. Perhaps the biggest risk of buying at auction is that you will have limited knowledge of the properties for sale, making an expensive misstep a real possibility."
How to Buy an Auction Property
The advantages of buying at auction include increasing your choices and possibly winning a property at a discount. You may face less competition to buy an auction house compared with buying in the customary way; but, you will also be dealing with a different group of prospective purchasers - frequently, skilled investors. The most common ways a home can end up at auction are because of foreclosure and tax default.
Foreclosure Auctions
When a homeowner has not paid the mortgage for at least a few months, they may fall into default and end up in foreclosure. When this happens, the mortgage company or bank files a notice of default with the county. If the homeowner does not pay what they owe, or renegotiate their loan with the lender, the lender can put the home up for auction and force the homeowner out for nonpayment. These foreclosure auctions are held by mortgage companies or bank-hired trustees.
Property Tax Default Auctions
Another way a home ends up on the auction block is when the owner does not pay the assessed property taxes. In these cases, it is the unpaid tax authority, rather than the bank, that seizes the property. The resulting tax lien auction is conducted by a local sheriff, county clerk, or the county or local tax authority's comptroller's office.
Property Information
The key to making a wise purchase decision when buying at auction is getting accurate information about a property. You can try to find information on government sites and public websites like Realtor.com and Zillow; but, public websites are known for their out-of-date information and both public and government sites probably won't have the detail, photos, or historic data to help make wise investment decisions. In addition, the local MLS from a real estate agent may not give you a complete picture.
While rules vary by location, MLS and county records are often only available to real estate licensees. Only licensed agents that are members of My State MLS have access to the Professional Search feature on My State MLS and the property information on the site goes back to the 1980's.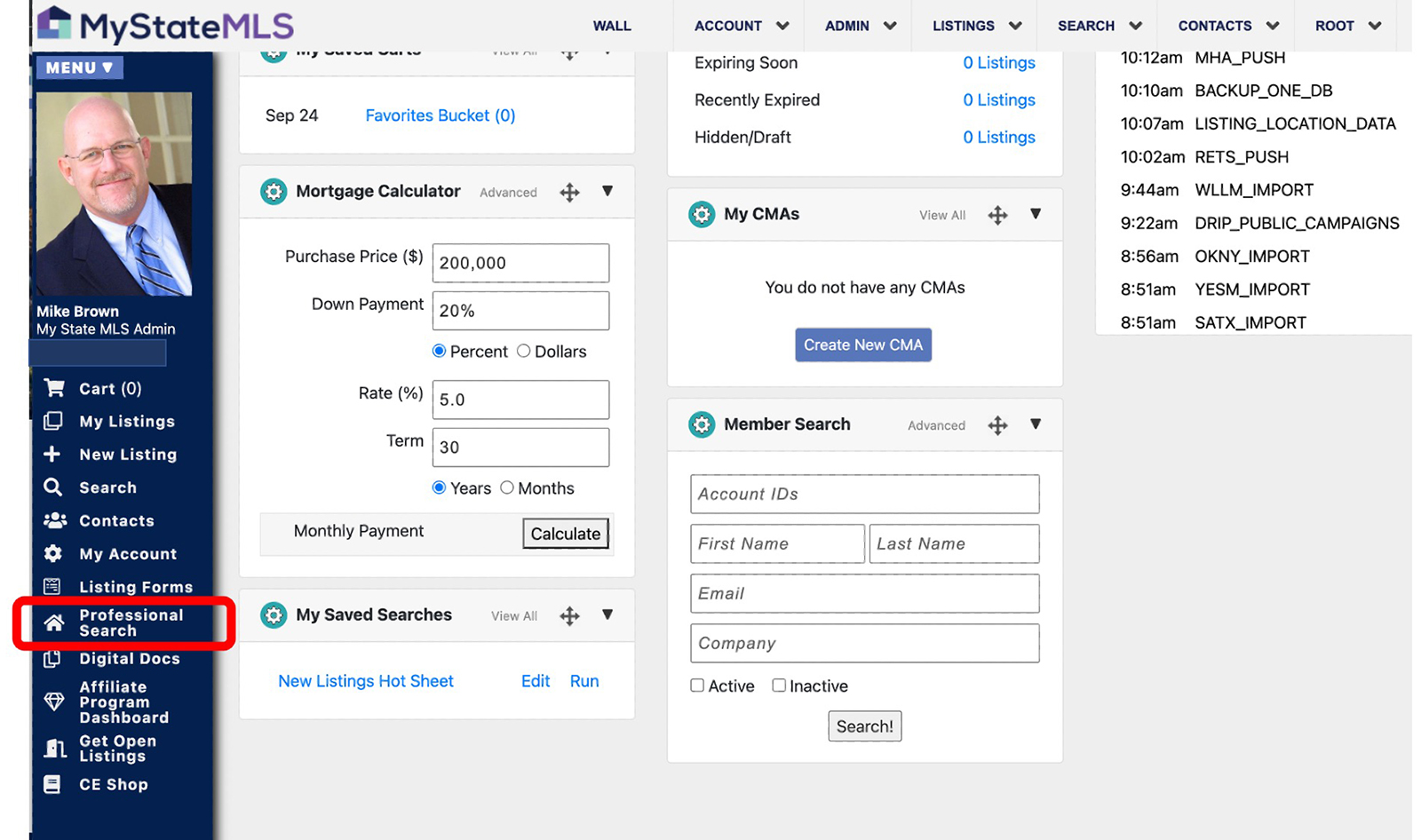 My State MLS Dashboard showing Professional Search Feature
Direct multiple listing service reports from My State MLS are far more valuable to potential buyers than online listings because they contain the full data for the property, including photos if they were ever photographed for any time the property was listed and, most important, non-public broker comments. Non-public comments are valuable because they identify critical information impacting sale price and days-on-market. This information can cover property defects, financing options, occupancy, and tenant leases. And Professional Search also provides the latest data from the more than 600 local MLSs across the country. You get most of the above information in one place.
Before you bid, you'll also want to see a title search to determine who holds liens against the property and how much they are: tax liens, Homeowner Association (HOA) liens, contractor liens, second or third mortgages, and possibly more. That information is key to knowing how much to bid on a property or if you should go for it at all.
Auction Logistics & Timing
In-person auctions have been vanishing because counties have been moving them online. COVID accelerated that movement. Miami-Dade and Palm Beach Counties are two locations in Florida where both tax and foreclosure auctions are now fully online.
Take note that foreclosure auctions are often postponed or canceled, even at the last moment right before bidding starts. The lender might not have acquired all the paperwork it needs, or the borrower may have worked out a deal to avoid foreclosure.
"In some states there's the right of redemption so a person has up until the last minute to redeem or declare bankruptcy and that can stop the sale. Different states have different foreclosure laws. So, check the laws in your state to see how that works." - Dawn Pfaff, Broker & Investor
Picking a Property to Bid On
The best way to assess an auction property is to work with real estate agents, appraisers, and contractors. These industry professionals understand construction and remodeling costs and can precisely estimate the property's worth and the cost of the work it may take to repair the home so it's livable or sellable in the market location.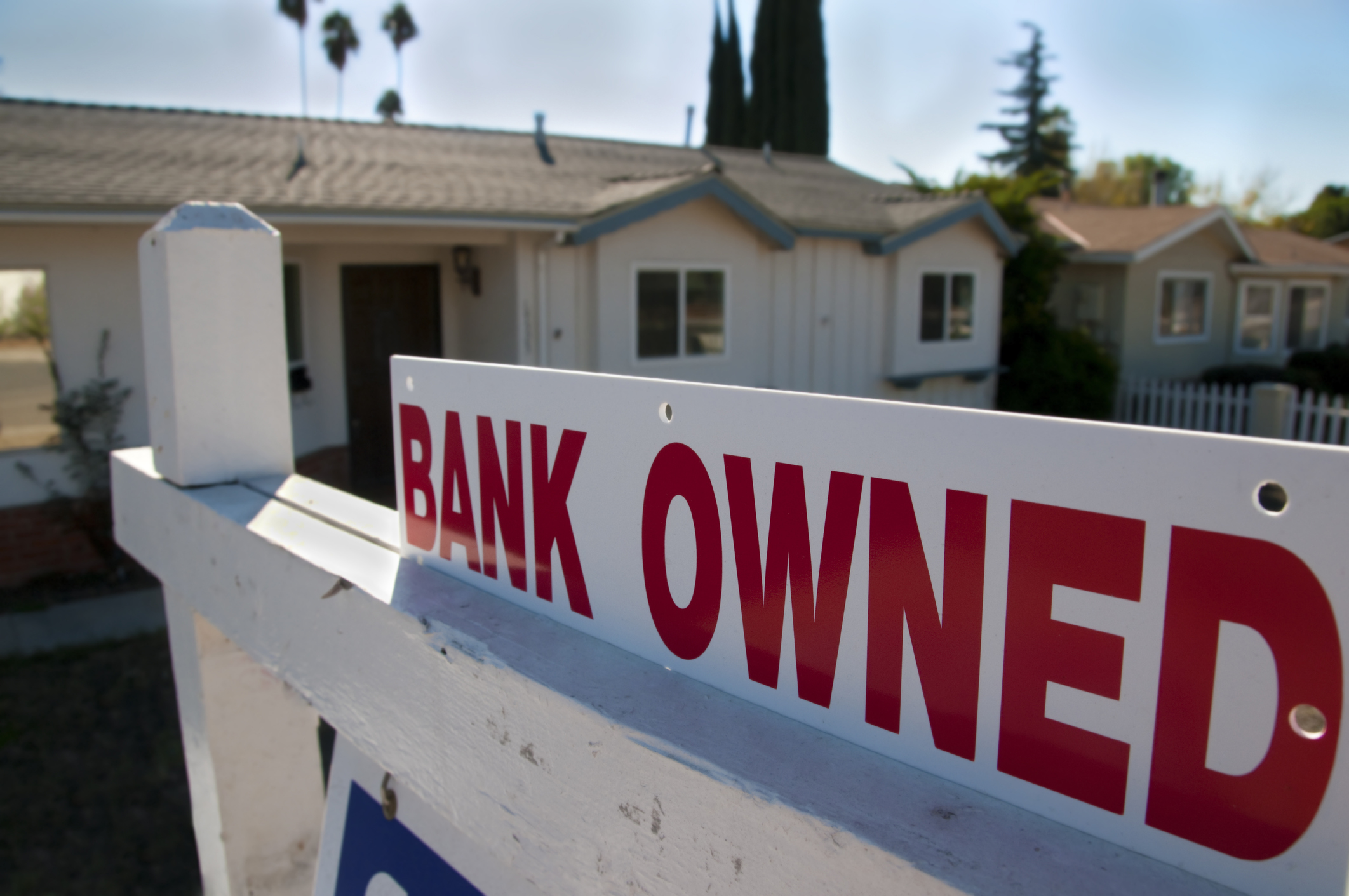 Getty Images
"I think like an investor because that's what I do," said Pfaff. "I've purchased homes this way and then I've had to do the fixing up. There can be a lot of work involved. There also can be complex title issues and you want to be extra careful about those."
First step is to register on the auction website, or at the courthouse if it's an in-person auction and submit a refundable deposit of 5% to 10% of the property's expected selling price to the entity holding the auction. If the auction is in person, be sure to check in at least an hour before the event starts and obtain an official auction card. You will raise the card when you are ready to bid.
Winning a property at auction can work in two different ways.
Lender Confirmation Auction
The lender does not have to accept your offer, even if you are the highest bidder.
Absolute Auction
The winning bid gets the property.
The starting price at the auction may be the balance owed on the mortgage or a lower amount designed to stimulate bidding. In a foreclosure auction, the lender is not allowed to profit from the auction. Often, these properties are sold at a loss. If there is a profit, that money is supposed to go to the foreclosed homeowner after the mortgage and other liens are paid. Auction properties are not always great deals. For example, the auctioneer could set a hidden reserve price on a house, which is the minimum that must be bid.
"Whether a buyer attends the auction in person or online, they must remember that there is a threshold price for every property where a wise investment can become a foolish purchase, and they must not allow the event, participants, buying pressure, or their emotions sway their decisions," said Pfaff.
Bidding & Payment Options
Buying a property at auction usually requires a lot of cash. Each county government and auction company has its own requirements for payment and fees. Besides the cash down payment, you may have to close with cash immediately or within 30 days.
"Homes purchased at auction often have costs and fees from auctioneers, banks, attorneys, and other companies that they had to pay to bring the property to auction," said Pfaff. "It's common to have 10% auction fees, bank interest and penalties, attorney fees, 12% sale carrying fees, and property preparation fees that are passed on to the buyer."
A word about bidding. If you're going to live in the house, you may be willing to pay more than the investors. They are looking for a profit so the auction price, plus fixing the house, plus profit may cause them to bid lower than you. If they want $20,000, $30,000, $50,000 or more profit, you as a homeowner that will live in the house, have a price advantage. You don't need that profit up front so it's not built into your bid like it is in theirs.
If you're going to live in the house, either you can do the work yourself to fix the home, or you're willing to fix it over time, or you're willing to live without some of the upgrades. That gives you time and price leverage over investors because most investors want a quick turnaround to make a profit.
Watch and Learn
Throughout this video series, watch the episodes to see auctions in action as Dawn and Nicole show you how they go through the process. They will bid on multiple homes in the coming weeks to show you how it's done.
Contact Us
If you want to buy a house at auction but are unsure of how to do it or don't want to take the risk, you can hire a real estate agent to be your buyers agent and pay them a fee. Choose a buyers agent that has done this type of work before and knows what they are doing. If you do not know who to call, contact us at My State MLS and we will connect you with an expert in this field.
*This is not investment or legal advice. It's intended as a starting point for homeowners and investors to learn how to start the for-auction home buying process. Although we are recording the auctions "live" while they happen, we have intentionally obscured the names and addresses to protect the identity of property owners that are going through the unfortunate foreclosure procedure.