Crexi is the latest commercial property syndication portal on MyStateMLS.com. This new partnership means new opportunities for commercial real estate sales. Crexi is the fastest-growing commercial real estate platform with over 500,000 active listings and more than 2 million monthly users.
In case you were wondering, CREXI is an acronym for: Commercial Real Estate Exchange, Inc.
This webinar is a great way for My State MLS members and real estate agents in general to learn more about commercial listings and the platform available to you to help you be successful.
Covered in the webinar replay is:
A brief overview of My State MLS
How to list commercial property on My State MLS and how to syndicate it to Crexi
Getting a free Crexi account and some of its features
The features and advantages of a Pro Crexi account and how to subscribe
Contact Nick DeGiorgio [nickd@crexi.com] who can help users on the Crexi Free platform.
Contact Nick Wood [nwood@crexi.com] to find out more and signup for the Pro platform on Crexi.
Webinar Highlights (Computer Generated Paraphrased Transcript)
"Today we're joined by Crexi to talk about this brand-new partnership with My State MLS," said Dave Mink, VP Operations for My State MLS. "If you do commercial listings, you do mixed use properties, this is the platform that you want to make sure your listings are on. This webinar is going to allow you to learn a lot about what you can do for your commercial real estate listings."
Dave: "If you're not doing commercial real estate now, today may be a great way for you to learn a little bit more about commercial listings and commercial properties. We've known in the past, getting your listings in front of those that are investing in commercial properties can sometimes be pretty difficult. But that's OK, because that's what we're here for today."
Crexi presenters:
Bita Ghassemi, Sr Director of Supply Growth
Nick Wood, Regional Director
Nick DeGiorgio, Supply Growth Manager
About half of the participants were not My State MLS members, so Dave briefly explained more about it:
Dave: "Let me give you an overview of My State MLS. We're a nationwide multiple listing platform that is already being used by tens of thousands of brokers and agents across the entire country. We have representation in all 50 states, even in US territories. So, even if you're not part of My State MLS, there's a pretty good chance that someone in your immediate area is already using our platform to get additional exposure on their listings. We see people joining My State MLS for a variety of reasons. Some use it because they did not have MLS coverage in the past. Some are using it because they want an additional tool to go alongside their local MLS and want some additional exposure. Or we've seen other agents and brokers leave their local MLS altogether in favor of our nationwide platform."
Dave: "And since we are nationwide, we see brokers and agents that are licensed in multiple states join our nationwide platform. We allow you to attach all of your different state licenses, all to the same account, so you're able to list properties in all those states from My State MLS, at no additional cost. As long as your license is under the same brokerage in those multiple states, you're going to be able to put those listings in in those various states where you're licensed."
Dave: "And, as all of you know, listing syndication is incredibly important. On average, 96% of buyers are doing their own home searches, whether it's for residential listings or commercial listings. Many consumers are doing searches before they even work with a broker or agent to represent them. By syndicating your listing out to as many third-party portals as possible, you're going to increase your chances of those potential buyers coming to you directly."
Dave: "Listing syndication can be even more important for commercial brokers. As I said before, there are not many commercial platforms that people know about, and so where can those investors or those buyers look for properties? Well, Crexii has become one of the fastest growing portals in the entire country, so we're going to talk about them in just a second. Before we do that, I just want to say, how Crexi is just one of our newest syndication portals. My State MLS sends listing to more than 120 different sites, not only nationwide, but around the world. We're one of the few MLS's that offers international syndication as well. So, we allow brokers and agents to get their listings on different platforms across the entire country and around the globe."
Dave: "Today, we're talking about Crexi and the importance that their platform has on the entire commercial real estate space. Crexi is one of the largest, growing, commercial real estate marketplace's ever. They have millions of users, over a half a million active commercial listings, that is a lot of properties, with two million monthly users, every single month."
Dave: "That amount of traffic is incredibly important, especially when you work with a client. You have to set yourself apart from those other brokers and agents that clients may be interviewing to list their property. By being able to tell them that you're a part of a nationwide MLS and that you're going to get their listing on some of the biggest platforms, not only in the country, but around the world, that could be what sets you apart from your competition."
Dave: "Starting now, you can get your listings added into the Crexi platform from My State MLS. When you put your listing into My State MLS, you always get to control where you're listings syndicates. So, as a commercial listing, I can select Crexi for listing syndication under the Listing Visibility section. Once this listing goes live, it's automatically going to get fed over into the Crexi database and be seen by the millions of viewers that visit the platform on a monthly basis."
Crexi: "Every current My State MLS member should have received a Welcome email with a link so they can activate a free account with Crexi."
Crexi: "If you're a commercial agent or broker and you activate the Crexi account and syndicate your listings on My State MLS to Crexi, you'll see your listings on both My State MLS and Crexi. From there, it's a matter of viewing those active listings, and engaging directly with leads on the platform. One of the exciting things about Crexi as a whole is the modernization of commercial real estate. We are used to some of the residential listing sites being more user friendly and technologically advanced. But to see where we've come as a commercial real estate industry and the ecosystem we're creating with Crexi, it's very clear to see the future."
Crexi: "Once you log into your account, you'll be prompted to setup your account notification settings. We definitely want to send you relevant emails. Go into your notification settings, checking what you want to receive, whether you're on the buy side, sales side, or both. You can also set filters based on whatever you and your clients may want to see on the site. For example, you can have leads emailed directly to you."
Crexi: "When you've set up your notifications, go to your Command Center on the Crexi homepage. Whether you have properties for sale or for lease, you can toggle between the listings. The Command Center provides a snapshot overview of all your inventory and how they're performing. You can see page views, visitors, and who is downloading your marketing material. Any changes you make to you listing on My State MLSwill be automatically sent to the Crexi site.
Crexi: "Each one of your properties will have a dashboard view, which will give you a more in-depth snapshot of how each listing is performing, who's looking at it, and more. And one of the great things about the Crexi platform, even in the basic free account, you can see who the leads are and send them a message."
Crexi: "A Crexi Score is assigned for each lead and with the free account you'll receive the basic contact information."
Crexi: "A Pro Subscription is available from Crexi and My State MLS members will receive a 35% discount."
Crexi: "Even with a free account, any broker can post their commercial listing completely for free, then anyone can come on and find that listing. For that reason alone, we passed all the competition, the number of listings on our site, and we have a bigger commercial database of tenants and buyers visiting the site daily."
Crexi: "We are more of a broker to buyer network and broker to tenant network vs. the other broker to broker networks. Having that direct connection to the buyer and the tenant, building your database, through Crexi, is going to be very empowering for you. Because with our Pro platform, we're not only going to connect you with that person, but we're also going to give you the ability to download all of that information as well."
Crexi: "With the Pro platform, we move your listings to the top of the page. If you want more exposure on your listings, you can get that with Crexi. With more views you'll get more leads. And with the Pro account, you get the full contact information for a lead. The names and numbers, the e-mail addresses, what company they are with, what role they have, and more. You can filter by the Crexi score as well, which is a rating on how qualified or interested that lead is."
Crexi: "The most important part about our Pro platform, is our marketing efforts. We market your deal to our database of buyers. One of the most important things is when you get a new listing, you email it to your database. In addition, we send it out to our database of over 20 million people."
Crexi: "On our platform, we know what someone is searching for. When your listing is a close match, we send your listing as a recommendation. We do this once a month for every one of your listings. So, on the Pro platform, we're going to curate a list of leads to the thousands of people who may be highly interested or highly qualified. We're actively looking and take your deal and blast it out. You don't have to do anything at all, we're going to automatically give you more exposure and bring in leads for you. An important part of Crexi's Pro platform is that it's going to really build your database. You can download an Excel sheet of all those leads too."
Crexi: "We also give you access in our Comp Section to our commercial intelligence. You can literally search any town in the U.S. and see past commercial deals that sold. You'll see the property history, tax history, and ownership records of those deals. Verified cellphone records are included."
Contact Nick DeGiorgio [nickd@crexi.com] who can help users on the Crexi Free platform.
Contact Nick Wood [nwood@crexi.com] to find our more and sign up for the Pro platform on Crexi.
See the Webinar Replay on YouTube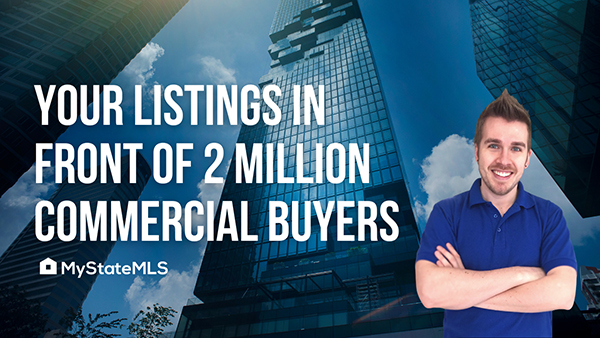 Related Content
Commercial Property Listing
Selling Commercial Property
Leasing Commercial Property
MyStateMLS