"There's been a lot of talk about [mortgage] rates lately, rates going crazy up into the sixes, which is not happening," said Dawn Pfaff, President of My State MLS. "But we're here to show you how I look up rates. We're in the Real Estate Cellar and I am on a site called Rate Rabbit. And I like this site because it really breaks it all down for you."
"They are a direct lender, and this is not an endorsement of their product," said Dawn. "Although I have gotten a loan from [RateRabbit.com] and they did live up to the things that they said they would do."
In this example that we're showing in the video on Go Home TV, "We're assuming a $500,000 purchase price, 10% down, loan amount of $450,000 for a primary home to live in, and excellent credit," said Dawn. And we're going to say we're not going to escrow taxes or insurance. We're going to say no to that because we don't know what the taxes or insurance are going to be."
The rate we talk about, when we talk about the rate, is how much is the rate without points. That was 5.25% on Friday, April 22, 2022. In that scenario, our payment without taxes and insurance is $2,627 per month for a $450,000 loan. A year ago, when the rate was 3%, it was $1,897 per month - quite a difference."We pretty much lost about $100,000 in purchasing power by the change in the rate from 3% to 5%," said Dawn. "If you do want to pay down the rate at $14,000 or so in points, which is just about a little over three points, you can get your monthly payment down only $200. It's going to take you six plus years to pay off that $14,000 at only $200 a month; but, you may need that $200 a month to qualify."
The question is, do you have the extra $14,000 to pay at closing? That's something you're going to have to evaluate.
Some news outlets like Money Magazine did some sensationalized reporting last week with the headline, "Today's Mortgage Rates Soar to Nearly 7%," and a lead paragraph that stated, "The latest rate on a 30-year fixed-rate mortgage is 6.875%."
That gets consumers in shock and looking but the real reported rate is 5.25% for the reasons we've given.
Not sure how Money got to that rate, but they claim, "Money's daily mortgage rates reflect what a borrower with a 20% down payment and a 700 credit score - roughly the national average score - might pay if he or she applied for a home loan right now. Each day's rates are based on the average rate 8,000 lenders offered to applicants the previous business day."
My State MLS wouldn't advise using that source because of course, there are going to be lenders that will charge you up to 7% or more - it's whatever the market will bear. One other way, you can also use Bank Rate [BankRate.com].

Bank Rate is a lead generation site so they're going to ask for a lot of personal information. You can get their rates without giving this information.
Google "Bank Rate 30-year mortgage". That takes you right to the 30-Year Mortgage Rate webpage and you can click on "Skip and show me rates" by entering your zip code and click Skip.
"Be careful. Wow," said Dawn. "You might just say this is 3.531%! Sure, it is. As a 15 year fixed refinance with two points down. You must be careful of what that loan to value is. Loan to value is how much equity you're going to have in the home or how much of a down payment you're going to make."
Set the filters for your situation. If you want to purchase a house, you set it for purchase, set it for 30 year fixed, uncheck the 15 year, and click done. You'll still have to be careful because loans under 5.25% involve options like points.
NOTE: Mortgage Point - sometimes called a discount point - is a fee you pay to lower your interest rate on your home purchase or refinance. One discount point costs 1% of your home loan amount. For example, if you take out a mortgage for $100,000, one point will cost you $1,000.
You're buying down the mortgage rate with points, which means you're putting more money up front at the closing to get this lower rate. When you want to have no points, you can click more filters and put zero fees. When you click done you're going to have rates a lot closer to what that Rate Rabbit rate was.
"It's super easy to use, but if you use the Bank Rate calculator, you can also find all these different rates and deals," said Dawn. "Both sites are trying to get your information and are lead generation and lead collection sites. So, beware of that. If you are looking for a home and you want to purchase a mortgage and you're looking around for who you're going to get that mortgage from, before you give your credit, your Social Security number and all of your other information to a lender, get information from that lender about what their terms are, what their rates are, what they require from you for the down payment before your give them your personal information."
If they require points, get all their information about the offer, and don't just willingly give out your Social Security number because once you do, they're going to check your credit. When they check your credit, it's going to hit your credit score and it's going to be considered an inquiry on your credit score. Too many inquiries will lower your score.
Before you give your Social Security number, ask them what they're going to do for you. Get as much information as you can and shop around, talk to your real estate agent if you have one. They should be able to guide you and help you figure out what type of loan might be the right type for you.
Guard your personal information. Guard your credit score. Guard your tax returns until you know that you want to go with that lender.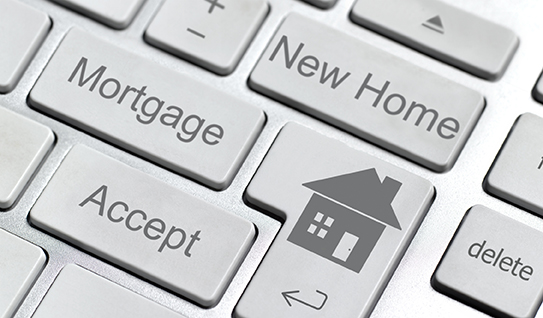 Getty Images
Also know what your credit score is going in. When you talk to that lender, you can say to them, I have excellent credit, or I don't have the best credit - because they are going to ask you and the rates depend on your credit score. Then the big elephant in the room, mortgage insurance, Private Mortgage Insurance (PMI).
What is mortgage insurance or private mortgage insurance?
That's the money that you will pay to the bank, extra each month, if you don't have 20% down for your down payment or you don't have 20% equity in the home if you refinance. Keep in mind, there are some lenders that don't charge mortgage insurance or have programs that don't have PMI.
VA Loans
Navy Federal Credit Union if you are in the service or a veteran
Neighborhood Assistance Corporation of America (NACA)
Bank of America - At the time of this writing, they offer the Affordable Loan Solution mortgage
CitiMortgage - Offers the HomeRun Mortgage
The tradeoff here is that no-PMI loans usually have higher rates, so you qualify for less money. And, they often require a higher credit score to qualify.
Take note that lenders can change proprietary mortgage programs at any time.
How Much Does PMI Cost?
PMI costs range from 0.30% to 1.15% of your loan balance annually. This amount will be broken into 12 installments and paid along with your monthly mortgage payment.
Your PMI rate is based on your credit score, your loan-to-value ratio (which is determined by your down payment), and your loan term.
Here's an example:
Home price: $250,000
Credit score: 740 (excellent)
Down payment: 5% ($12,500)
Loan: $237,500 30-year fixed rate mortgage
Annual PMI: $1,236
Monthly PMI cost: $103
If you're getting an FHA loan because you don't have the best credit or you don't have credit at all and you need to go FHA, you must find out what that mortgage insurance is going to be. There's a big mortgage insurance payment due when you do an FHA loan. So, if you have 20% put down, you don't have to worry about mortgage insurance.
The Bottom Line
"Well, that's how you do it," said Dawn. "Stop sharing misinformation about the wrong interest rates online. If you see rates quoting 6%, 7%, 8%, or more, don't just share anything. If you don't know that it's true, go online and find out for yourself. Don't believe everything you see. Make sure you know, do your research, ask a lot of questions.
If you need any help, we're always here for you. Contact us at office@mystatemls.com or (888) 769-7657.
See the Benefits and Join My State MLS. Become a member of the nationwide multiple Listing service