BREAKING NEWS VIDEO: My State MLS Analysis Shows Housing Inventory Starting to Rise - 10:48

By R. Michael Brown, Go Home TV Producer
Seduced by record-low mortgage rates and employees choosing to work from anywhere, home buyers rushed into the real estate market during the pandemic. Investors bought homes at a record pace as they saw rents soar. That flood of buyers triggered the number of homes available for sale to nosedive.
Economics 101 taught us, and it's now playing out, that low supply along with high demand caused a boom in home prices. The average number of homes for sale per year hovers around 2 million nationwide during normal market conditions. According to the National Association of Realtors (NAR), that dropped to 800 thousand and change in February this year.
Now with exploding interest rates, 5.377% - 30-year-fixed national average today (up from 2.9% average at the first of the year), and the highest inflation in 40 years, what is going on with real estate inventory? An analysis by My State MLS, a nationwide multiple listing service, shows that inventory may be starting to rise.
"We did an analysis using our Professional Search feature on My State MLS and found some markets are starting to get more single-family home inventory," said Dawn Pfaff, president of My State MLS. "Price range and location, as always, drive the data."
For example, Miami-Dade County, Florida, one of the hottest markets in the country, now has an inventory of 5.4 weeks in the price range of $200 thousand to $1.5 million single-family resale homes. That's up from 0.9 months of inventory from earlier this year.
At the $200 thousand to $1.5 million price point for single-family homes, here are some other current housing inventory results of the My State MLS analysis*:
Palm Beach County, Florida = 3.7 weeks
St. Lucie County, Florida = 2.9 weeks
Hudson Valley, NY = 1.5 months (seasonally adjusted), up from 0.9%
Wake County (Raleigh), NC = Less than 1 week inventory - one of the hottest markets in the country with only 250 single-family homes for sale as of today.
National Monthly Supply of Houses in the United States (MSACSR)
ALFRED data is starting to show a slight rise in inventory. December, 2021 was 5.4; January, 2022 was 6.1; February, 2022 was 6.3.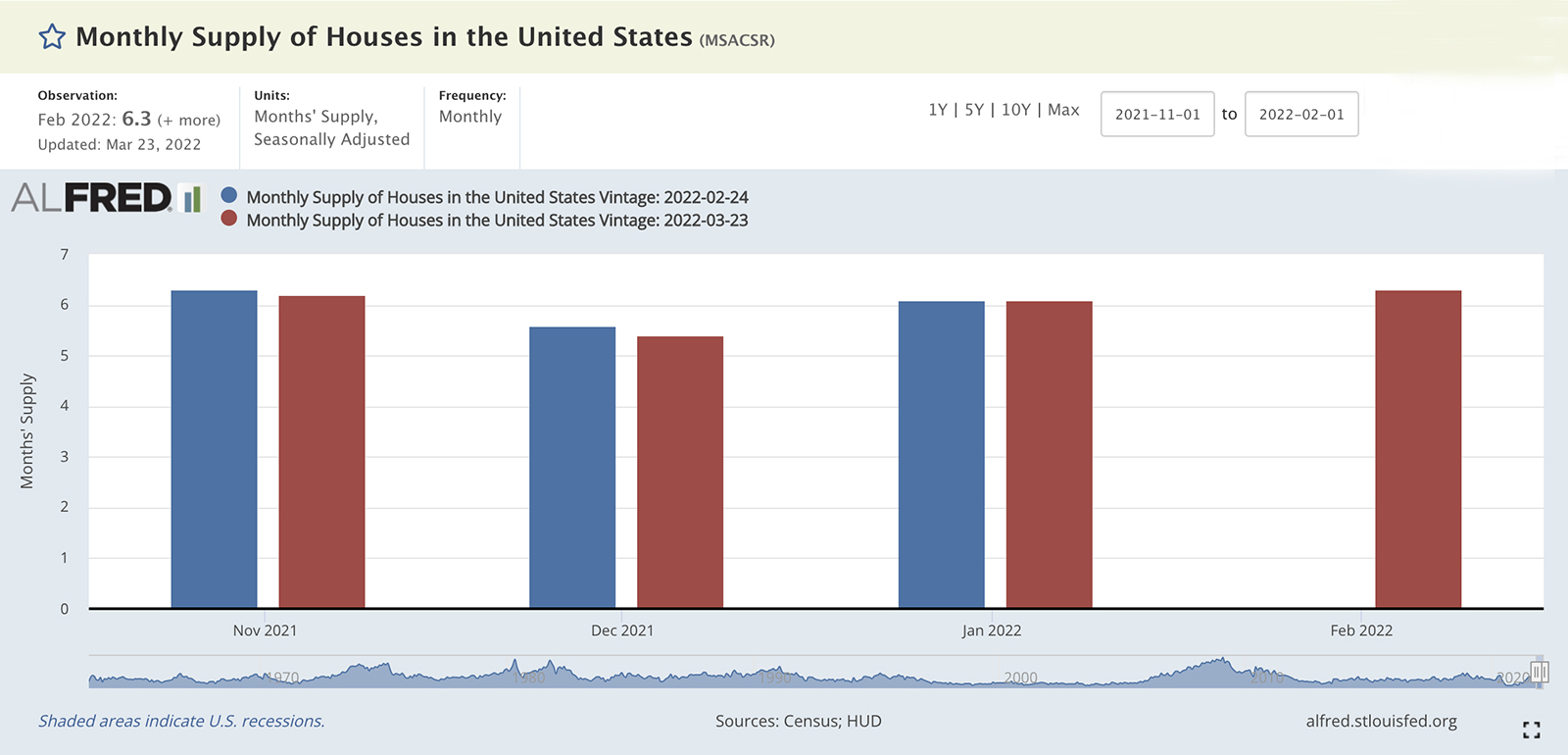 Source: U.S. Census Bureau Source: U.S. Department of Housing and Urban Development

Is this a trend? The short answer is yes. My State MLS believes that between interest rate hikes and many homeowners thinking that we have reached the price peak, they may be putting their house on the market so they don't miss out on the sellers market in this cycle. We'll continue to monitor and update you on Go Home TV.
Housing Affordability
At the current national interest rate of 5.377% for a 30-year-fixed-rate mortgage, a $500 thousand house, with a down payment of 20% would result in a $2,246 monthly mortgage payment. That interest rate is still reasonable and is consistent with a healthy real estate market.
Most have gotten used to interest rates at 3% and using the same criteria as above, a $500 thousand house would have resulted in a monthly mortgage of $1,686.
You Can Do Your Own Analysis for Your Markets
You can make your own analysis of your market by becoming a member of My State MLS and accessing our feature Professional Search that is only available to licensed real estate professionals.
Since all markets are local, we encourage you to do your own market research and analysis using the MyStateMLS.com website, which with pro search, gives you access to all the local MLS data across the country. Then send your local market analysis to Go Home TV Producer R. Michael Brown at Office@MyStateMLS.com. We'll check your analysis and several will be picked to be featured on our website and some on the Real Estate Cellar show with Dawn and Nicole.
*Analysis does not include new home construction, condos, or multifamily homes.
See the Benefits and Join My State MLS. Become a member of the nationwide multiple Listing service.